It seemed so exciting when your home first went on the market. You were full of anticipation around people coming to view, and your agent sounded convincing when they said they had buyers waiting.
But that was months ago, and your home is still for sale. Perhaps the relationship with your agent has soured, or maybe you still feel loyal, but at the back of your mind you're wondering how long to wait before switching to someone else.
When people have changed to us from another estate agent, the main reasons they felt they needed a fresh start were:
Being unhappy with the way their home was marketed.
Feeling left in the dark through disappointing communication.
No longer trusting the advice they were getting.
Losing confidence in their agent's abilities.
If any of these ring true for you, the good news is your faith can be restored, along with your move. So let's take a closer look at how things go wrong and how to put them right, so you can get back on track.
MEDIOCRE MARKETING
Marketing is everything when it comes to selling property. You could have the best home in the world, but if nobody knows it's for sale or the publicity is poor, your moving plans are at risk.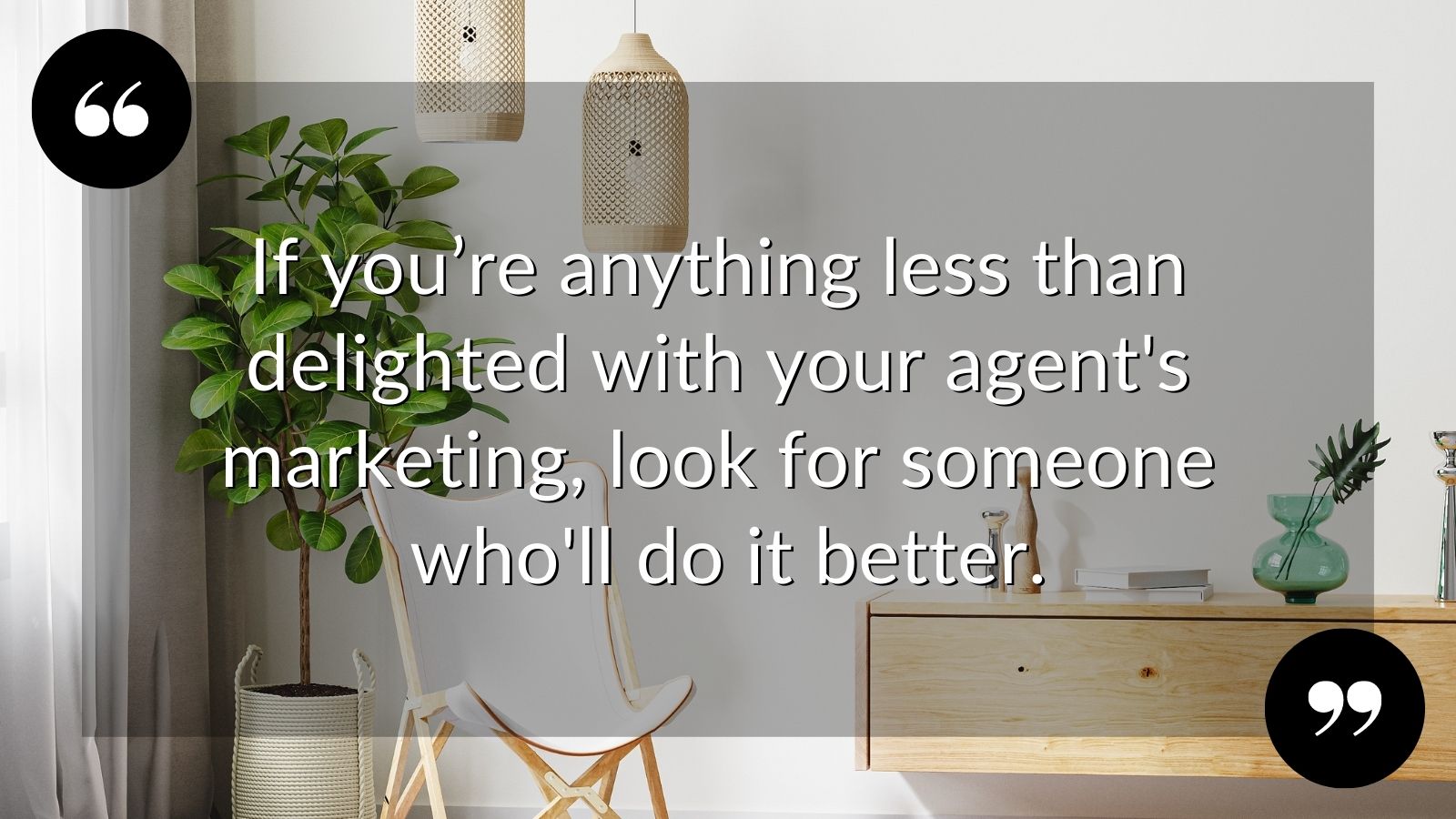 Some typical marketing let-downs include:
Inaccurate pricing: more than a turn-off, your perfect buyer may never know your home exists if your price is too high or too low.
Terrible photos: as the first introduction most people have to your home, photography plays a crucial role. Dark, blurred, wonky or unstaged images ruin your chances.
Dull descriptions: how your agent describes your home makes a massive difference. It doesn't matter whether the text is long or short, but it absolutely must be compelling.
There's no excuse for bad or even mediocre marketing. If you're anything less than delighted and impressed with how your agent promotes your home, switch to someone who does it better.
DISAPPOINTING COMMUNICATION
The Sound of Silence is a great song, but it's hardly the service you want from your estate agent. And yet it's by far the biggest complaint we hear from people when they're thinking of switching agents.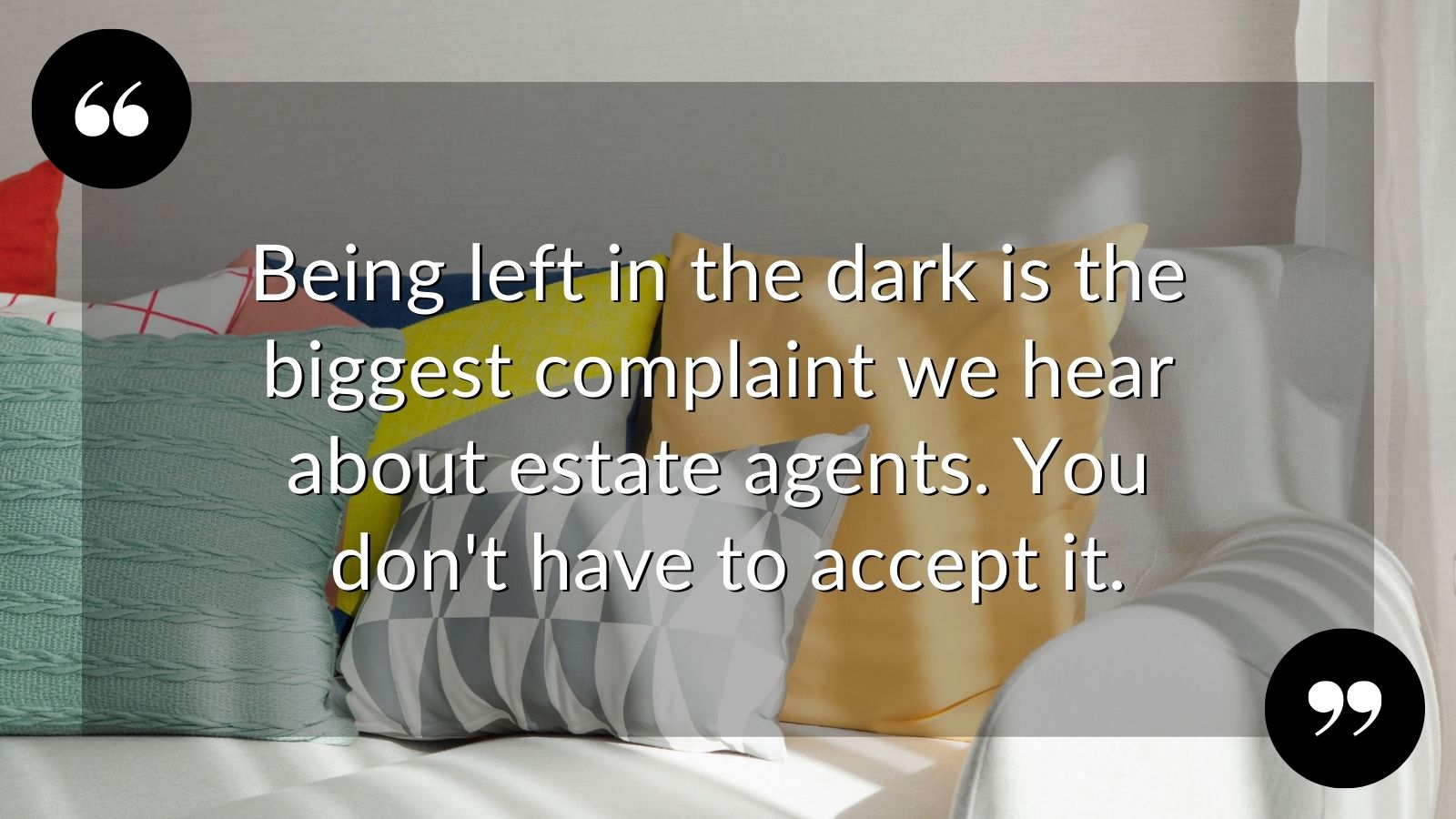 Feeling forgotten or left in the dark is incredibly frustrating, leaving you stuck in limbo with little to go on around things like:
Feedback after viewings, even if it's completely negative, so you know what every viewer says about your home.
Local market conditions, how many buyers are registering, and which homes are selling.
The performance of your strategy so far, and suggestions on improving your chances.
As a final way to add insult to injury, we've even heard tales of agents not taking or returning their clients' calls, probably to avoid a difficult conversation. You don't have to accept this sort of service.
BEING LED UP THE GARDEN PATH
Promises are easy to make, but when they turn out to be empty, they leave a really bad taste and make you question everything. Perhaps your current agent: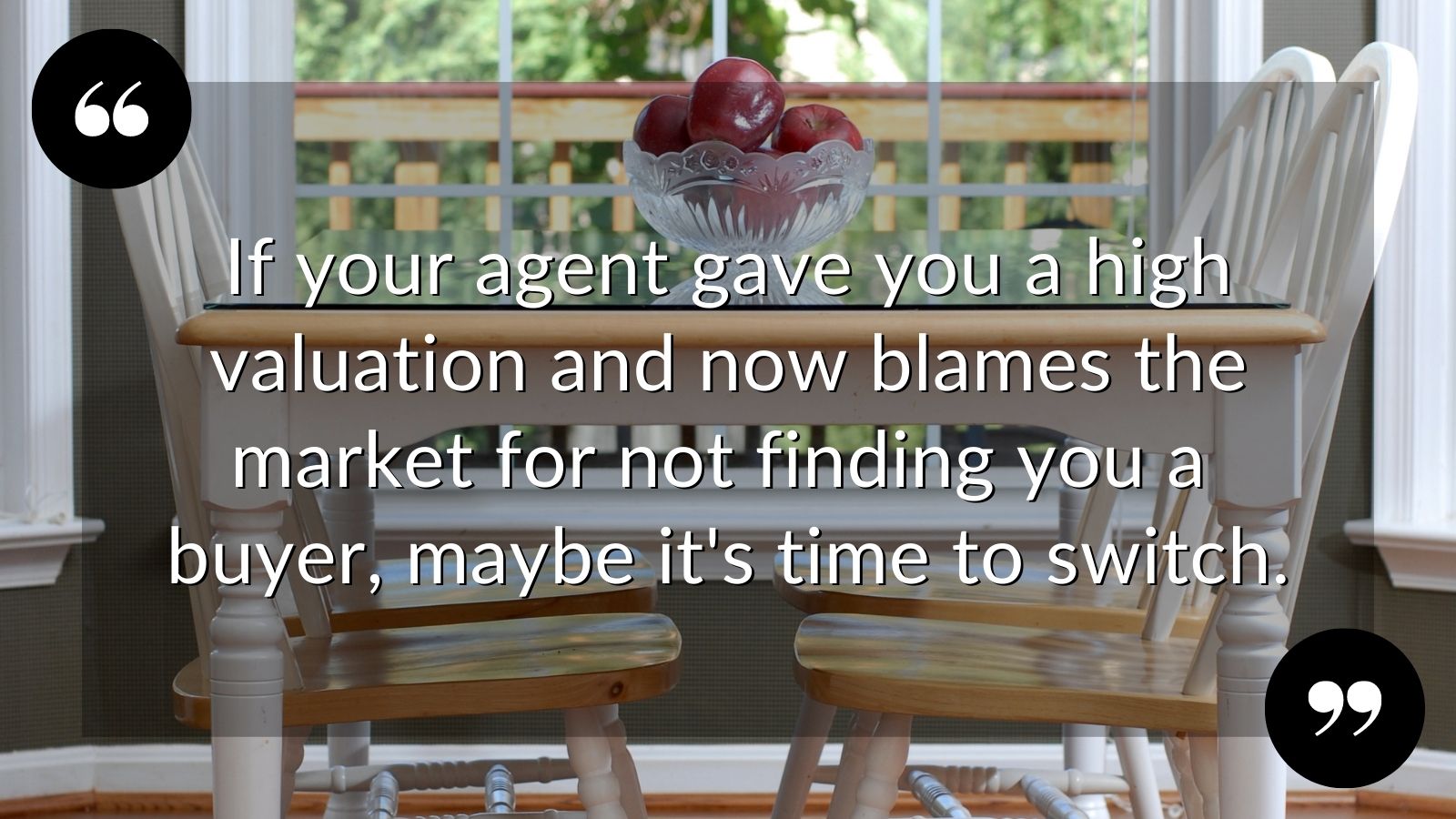 Gave you a higher valuation than everyone else with little supporting evidence, and now blames the market for not making a sale while pushing you to reduce your price.
Assured you they'd have buyers lining up down the street, but you've had few viewings and no offers.
Asked you to sign a lengthy sole agency contract of many months, leaving you tied in and stuck.
If this sounds like your experience, you're unfortunately far from alone. But you don't need to accept it, and you may even be able to break free from your contract early with some polite but tough talk!
FEELING YOU COULD DO BETTER
Having complete confidence in your agent is a vital part of selling, and if you no longer feel you're in good hands, you could have lost faith in their abilities.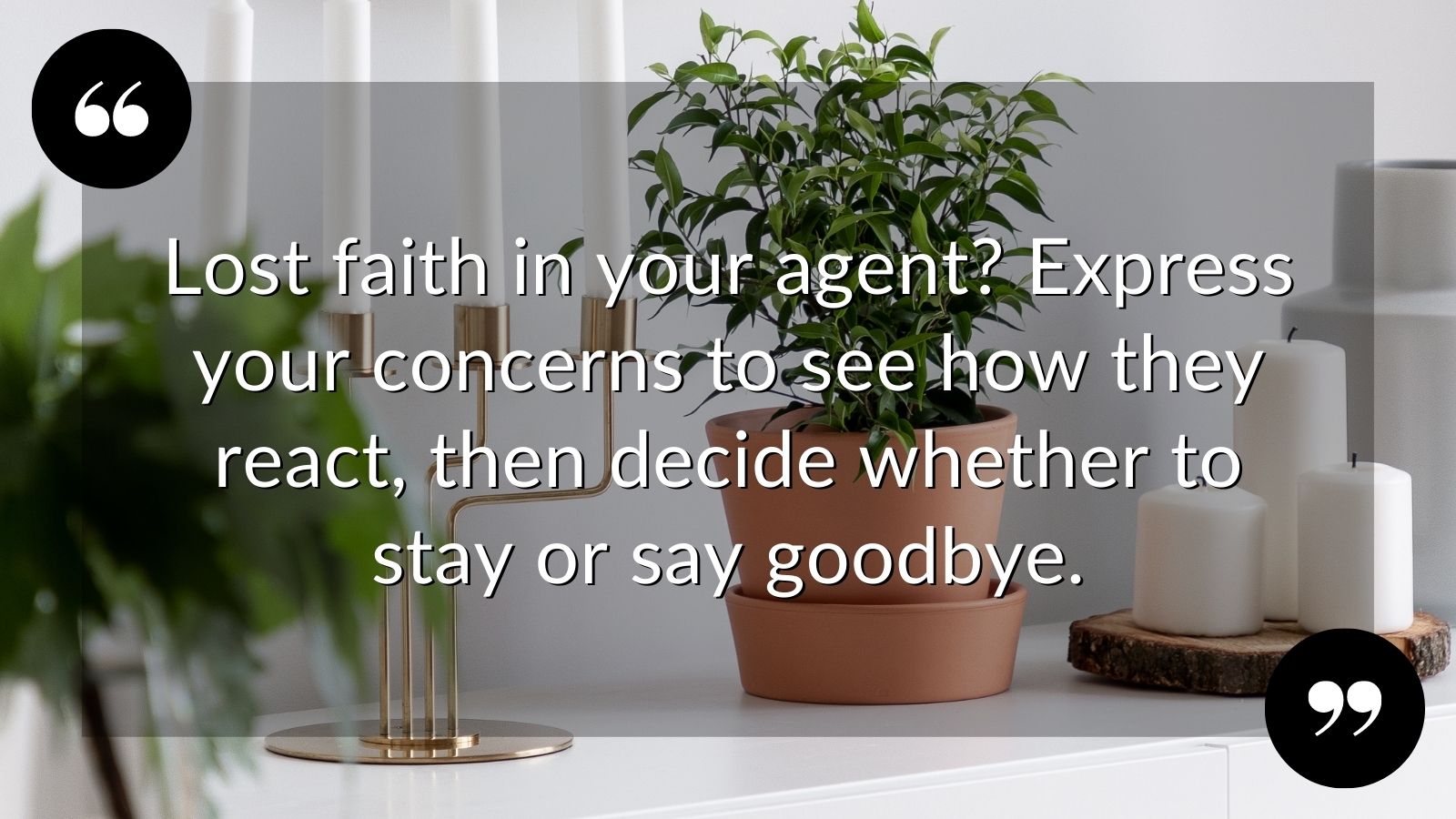 Thinking you can do better can come from various experiences, but some of the main ones include:
Overhearing with great disappointment the way your agent shows people around your home.
Posing as a buyer and seeing whether your agent mentions your home or how they introduce it to you.
Getting very little advice around tweaking your home's presentation for more successful viewings.
It's worth chatting with your agent to see how they respond to your concerns. If they're receptive, you might choose to say with them. But if they're defensive, maybe it's time to say goodbye.
CHANGING AGENTS COULD CHANGE EVERYTHING
It's not always obvious why a home isn't selling, but if your agent is out of ideas, you might need a new approach. Feel like a hassle? Here are some of the immediate benefits: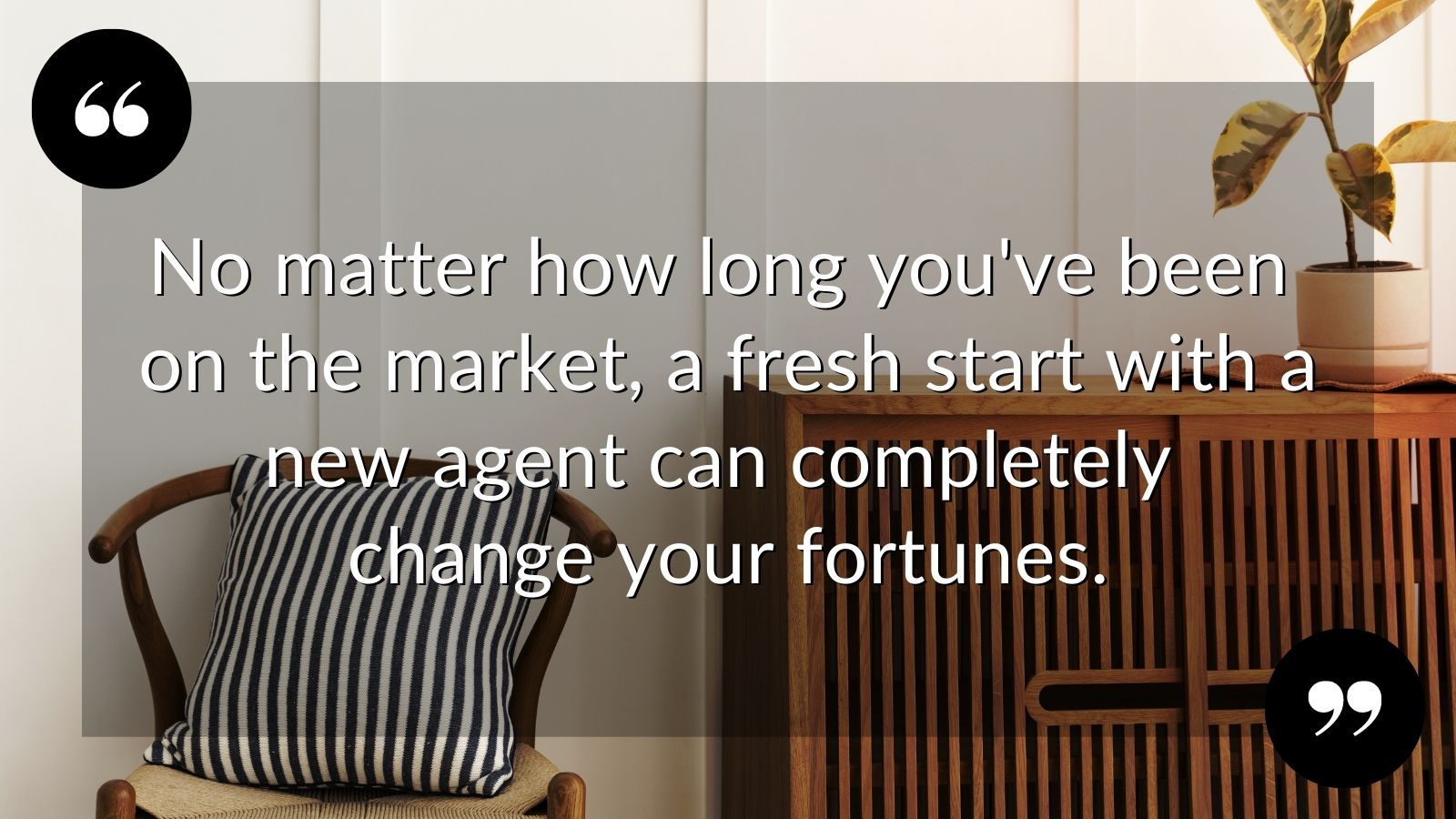 Your home is automatically reset to new-listing status as soon as you change agents (otherwise, you have to wait 12 weeks if you decide to take a break  and then remarket with the same agent).
New photographs from different angles with different staging can give your home an instant online makeover to attract buyers who may have missed or discounted it before.
You can recapture the most enthusiastic time for an estate agent, namely the first few weeks of having a new property listing to sell.
No matter how discouraging things might seem after months on the market, take heart that a fresh start with a new agent can completely change your fortunes.
What's next for you?
Just because your home hasn't sold with your current estate agent doesn't mean there isn't a buyer out there. There's no need to feel stuck on the shelf, and we'd love to show you why.
Call us on 02920 310555 or email us at info@harryharper.co.uk for a fresh pair of eyes and a friendly chat about getting your move back on track. Switching agents could be just what you need to sell.