What's your biggest fear about being a landlord? For many, it's the prospect of getting locked in a lengthy dispute with their tenants while trying to keep their cool.
It's rare for any landlord or tenant to set out looking for conflict, but sometimes the unexpected causes disagreements and discord. And when a problem strikes, having the tools to deal with it quickly and effectively can truly preserve your sanity.
From proactive measures to reactive steps, it's worth getting a handle on things like:
Setting your property and tenancies up to be problem-free.
Disputes over damages and security deposits.
Handling neighbour and nuisance issues.
Getting late and unpaid rent back on track.
Serving notice and evictions.
The good news is that, with the right info to hand, tackling issues is less stressful than you might think. So let's look at how you can fix conflicts and disputes without losing your head.
PREVENTION IS BETTER THAN CURE
Removing the potential for future problems is the best way for landlords to avoid disputes, so here are seven ways you can set your tenancy up for success: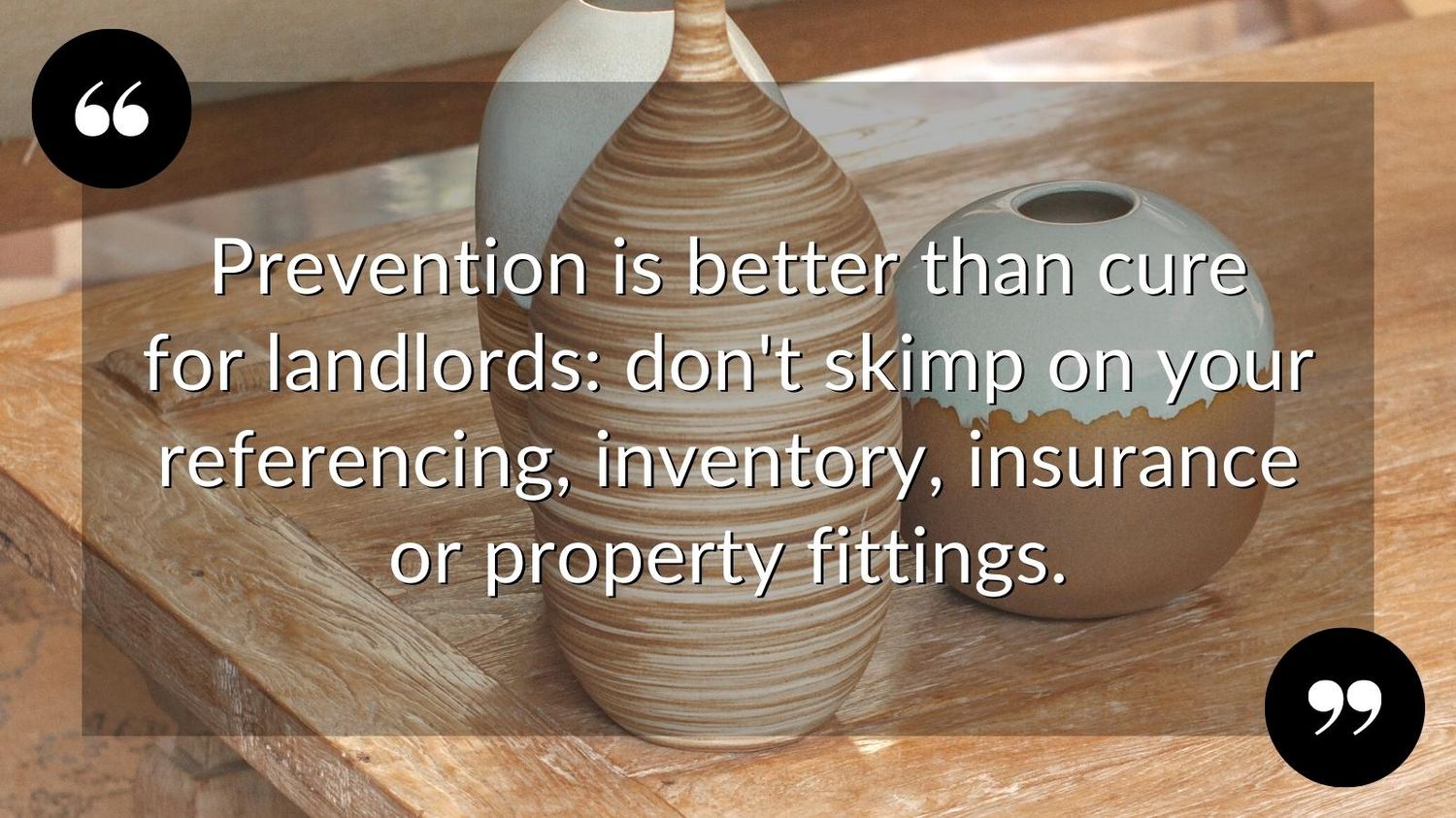 Conduct thorough referencing, prepare an inventory with photos, use a proper tenancy agreement, and protect the security deposit within 28 days of check-in.
Ensure all safety checks and certificates for gas, electricity and fire safety are kept up to date throughout the tenancy.
Go for durability and years of service, from interior fittings, to washable paint, to the highest quality appliances that reflect the value of your property.
Respond quickly to your tenants' requests for repairs and maintenance and keep in touch about contractors visiting.
Make regular inspections throughout the tenancy to check in with your tenants, check up on your property, and nip problems in the bud.
Have an out-of-hours number for tenants to call in emergencies - as a managing agent we offer this as a standard part of our service
Cover yourself with insurance for landlord contents, public liability, and rent guarantee - the peace of mind is priceless.
All of this is buy-to-let 101, and having these steps in place will make problems less likely to crop up in the first place, and easier to handle when they do.
NEIGHBOUR AND NOISE ISSUES
Nuisance and noise disputes are fortunately rare and usually sorted amicably without landlords ever finding out. But in case you do end up getting involved, here are some things worth knowing: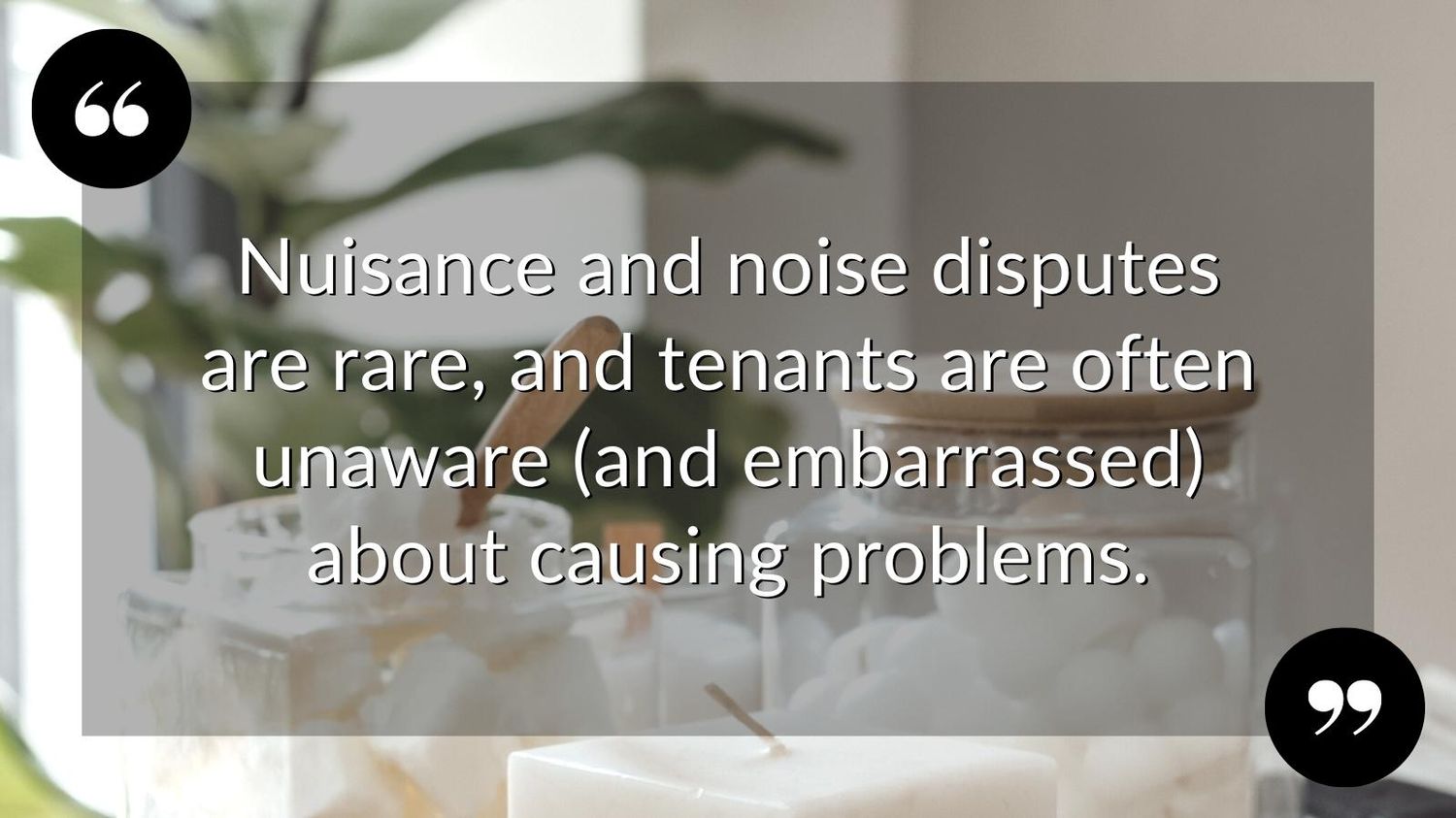 For tenants leaving bikes, personal belongings or trash where they shouldn't, restating the rules usually sorts this out (particularly if they're already in the tenancy agreement).
Landlords are not legally responsible for noisy tenants, but mediating can help you maintain relationships with your neighbours by showing you're on the case.
Tenants are often unaware (and embarrassed) about causing problems like loud music, booming voices or heavy footsteps - simply saying something often gets things solved.
Unfortunately, we Brits often suffer in silence through fear of confrontation, but most neighbour issues can be quickly resolved by taking the initiative in a friendly but firm fashion.
LATE AND UNPAID RENT
If your tenant pays their rent late, it doesn't necessarily mean they've gone bad. People sometimes experience financial hiccups, and there are quite a few options for finding a solution. in a firm but fair way.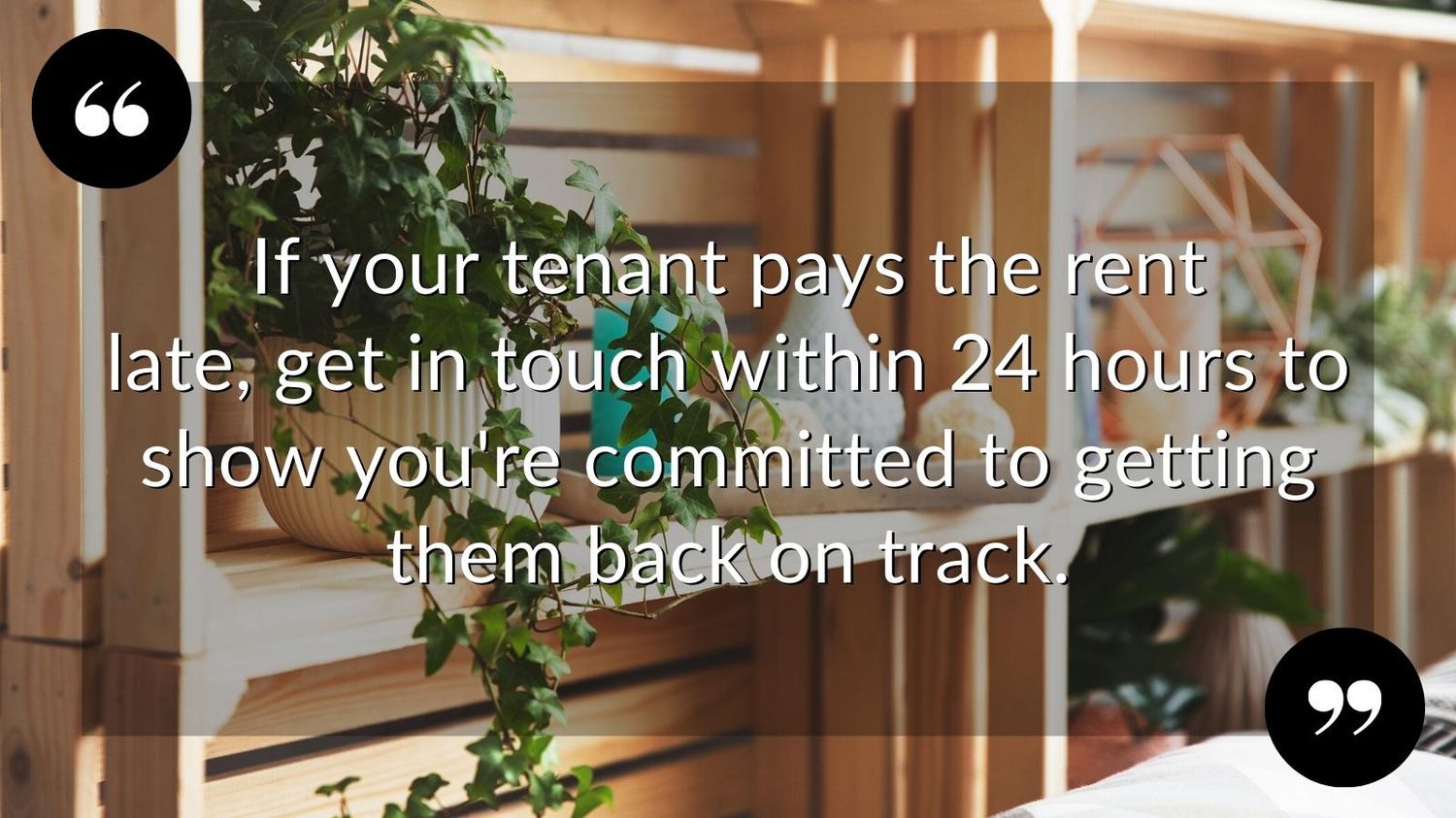 Text or call within a day of the due date to show your commitment to getting things back on track.
If you don't get a reply, send a formal letter requesting immediate payment, then follow up within a week giving 24 hours written notice that you intend to visit and discuss the arrears in person.
If your tenant can't pay everything immediately, see if you can find another way to clear the arrears, perhaps with a payment plan to bring them down over a few months.
Ask your tenant if they'd find it easier to pay the rent on a different day - the date they get paid may have changed, and they may be having difficulty budgeting.
Some landlords offer temporary rent reductions for tenants they're keen to keep and have known for a long time (and where the problem isn't expected to be permanent).
You could offer to let your tenant out of their tenancy immediately so you can re-let your property and restore your income.
The goal for both of you is to find a solution that avoids going to court, but it's worth keeping a record of all communication in case legal action becomes necessary.
DAMAGE AND DEPOSIT DISPUTES
General wear and tear at your rental property is an inevitable outcome of people living there. Damages, however, are another matter, and while accidents do happen and can be inconvenient to fix, they don't need to become a drama.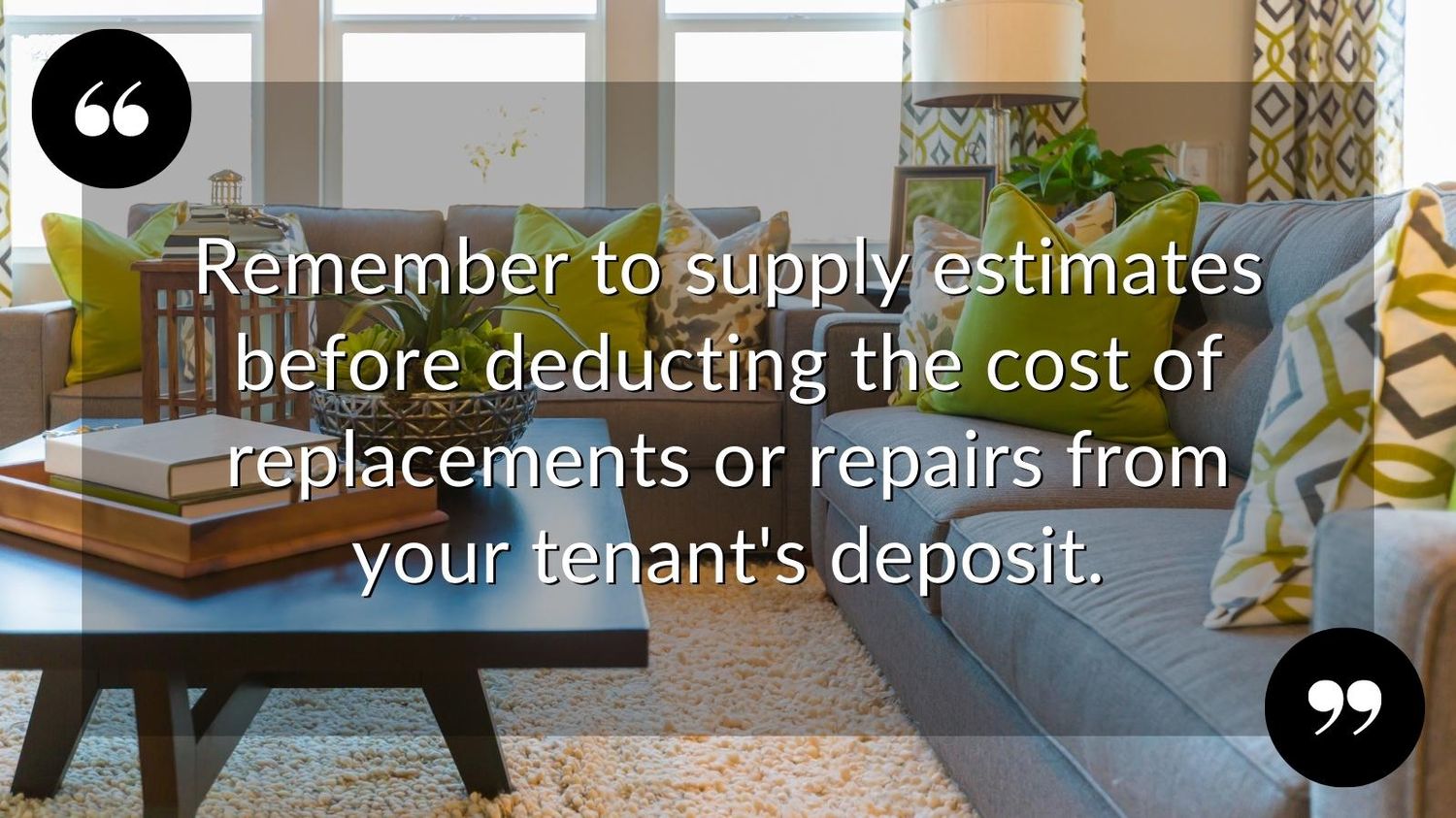 Protecting your tenant's deposit at the start of the tenancy will allow you to reclaim damages and avoid being liable for up to 3 months' rent as compensation.
Use the signed inventory with photos from the start of the tenancy to prove your case. Remember: no inventory = almost zero chance of winning a dispute.
Supply the tenant with estimates for repairs and replacements when telling them how much you wish to hold back from their security deposit.
If you can't agree on an amount to be deducted within ten days of the end of the tenancy, using an arbitration service can often resolve things without legal action.
Too many landlords lose disputes unnecessarily, so take a look at our previous Deposit Disputes blog to put yourself in the best position from the start.
SERVING NOTICE AND EVICTIONS
Sometimes, the only resolution to a dispute is to part ways with your tenant. We cover the legal process of getting your property back in our previous Rental Recovery blog, but here are some tips on keeping it together through an often challenging and protracted time.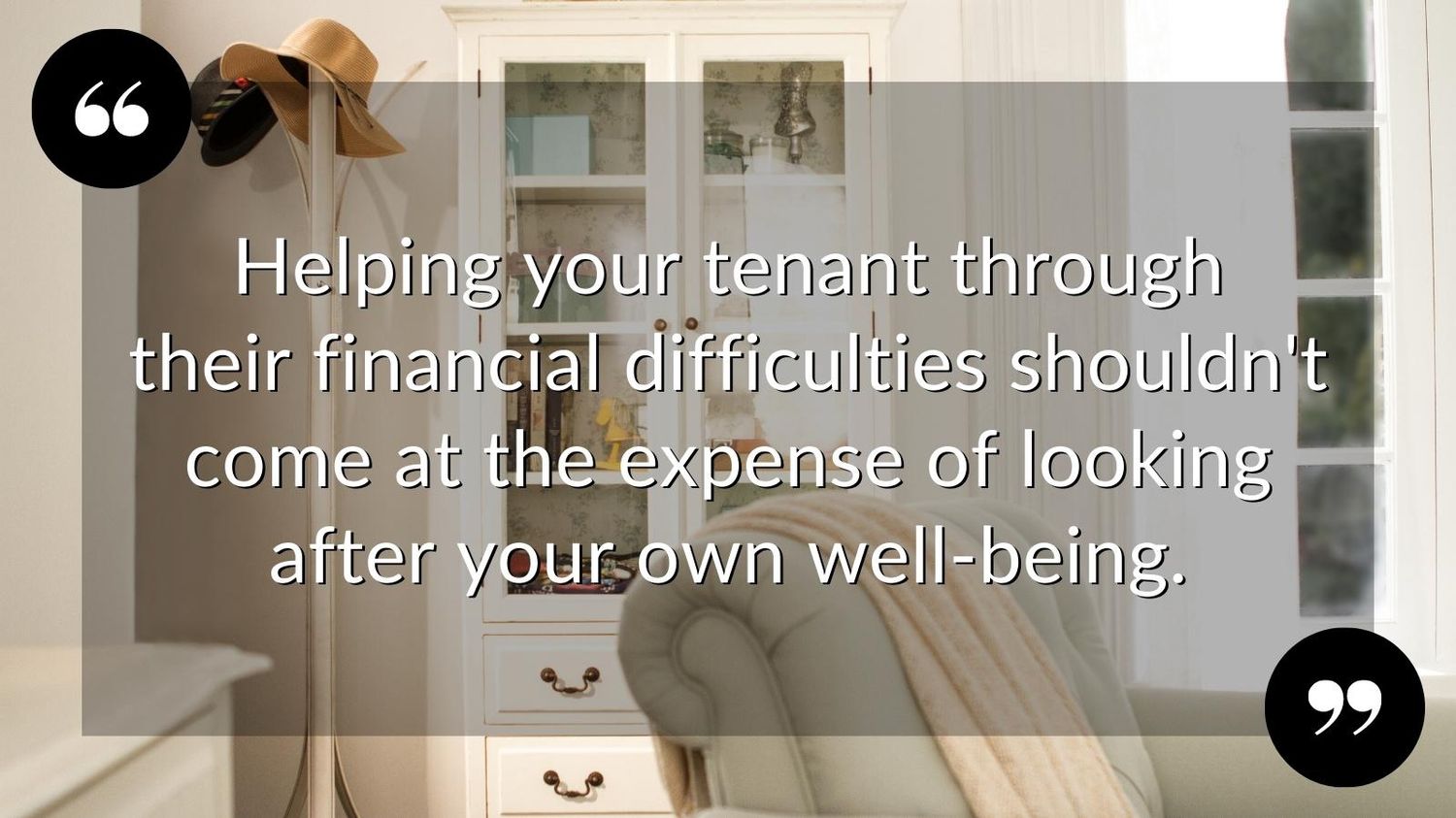 Avoid getting involved in arguments or using inflammatory language - remain calm, objective and rational, even if your tenant doesn't.
Stay sympathetic to your tenant's financial difficulties, but be mindful that it doesn't come at the cost of your own well-being or finances.
Remember that most local authorities only house people who've been evicted; leaving voluntarily could make your tenants homeless, giving them very few choices.
It often gets lost that landlords don't enjoy evicting tenants, so if dealing directly with an eviction feels too stressful, ask a managing agent to handle it for you - there's no need to do everything yourself.
Have you got tenant troubles?
Feeling alone can make handling disputes even more difficult for a landlord, but we're here to make things easier for you and stand by your side.
Whether you want some quick advice on a current challenge, or you're thinking of working with a managing agent in Cardiff, call us on 02920 310555 or email us at info@harryharper.co.uk for a friendly, expert chat.